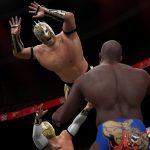 ---
Let's talk about the wishlist of WWE 2K17
WWE 2K17 – is a game for peoples, which likes adventures, action and superstars. Thousands of fans all over the world are waiting for this game. Now, while this game isn't released yet, we are talking about WWE 2K17. We talk and about the wishes, which are related with this game. It is important to say, that we have lot of wishes, so we made wishlist. Would you like to see it? You will have this opportunity very soon, but before that t we want to say that wishes are related with: rooster, moves, reality, entrance, finisher, commentary, respect and disrespect, storyline, interaction, wagers. Now we will talk about every wish.
1. Include everyone in Rooster
All of us know a bad new – some persons were bummed. So, one of the biggest wish is too see this persons again in the game.
2. Very own Moves
Moves are that element which make the game more interesting. So, we want moves as more as possible.
3. Real life gameplay
We all like reality elements in the game very much. So, our wish is very natural – we want to see these elements as more as possible- they will make this game real.
4. Create an entrance
We had this opportunity in the in 2005 version of the game. And now we want to have this opportunity again.
5. Improve create a finisher
Finisher is a very important element of game. And we want to create it by themselves.
6. Speak by typing
Speak by typing can be very useful for every player. So, this is one more our wish.
7. Commentary
Commentary is a very good decision if you want to have interesting game.
8. Optional Mutual Respect/Disrespect
Optional mutual respect and disrespect can make the game more easier. So, we want tohave this opportunity.
9. Create a storyline
If this wish will come a truth, the players should be able to change features and profile of our superstar whenever we want.
10.Crowd Interaction
This is one more opportunity, which will made the game more realistic. We are the lovers of reality, so this opportunity is really necessary for us.
11. Wagers
If we will have the online wagers, we will have lot of different opportunities. So, we are waiting for this also.
Your wishes are very important too. So, dear friends, tell us what is wish? What would you like to see or do in this game? We want to know your opinion as soon as possible.
As we can see, we have lot of wishes. We still don't know – will come a truth these wishes or no. anyway, we will be waiting and we will see.