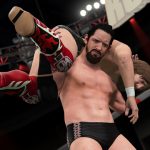 ---
Let's talk about the modes wishlist: what is in it?
When we are talking about the WWE 2K17, we talk and about wishes very often. Moreover, it is important to say that when we have lot of wishes, we can make a wishlist. We will do it and today. By the way, we just want to remember, that today we will about modes. So, what is wishlist of the modes? You will see it very soon. In this list you can find this modes such as: Invasion mode, Sting mode, Ric Flair mode, Divas mode, EWC mode, WWE network mode, Monday night wars mode, Shield, History of the NXT Championship and 1.WWE x UFC Mode. And now let's talk about everyone of them.
Invasion mode
As we all knows is the biggest part of WWE wrestling. So, it is worthy of attention very much.
Sting mode
One more mode, which is related with this game is Sting mode. The lovers of the game knows that Sting is a WWE Hall of Fame. It is important to notice that It is the greatest way to pay respect for the legend, also.
Ric Flair mode
We had a great idea – this would be a perfect way for WWE pay respect to Ric Flair.
Divas mode
This is one more mode for this game. As we all know, is already there but adding more lineage and historical information to this mode would be amazing add to the game.
EWC mode
Why haven't 2k added this mode? EWC mode is one more our wish.
WWE network mode
We have the information that it would very difficult to add this mode to this game, but this is our wish and we want that it will come a truth.
Monday night wars mode
We all are in the shock – this mode haven't added yet. However, we have a little bit of time – maybe we will see this mode in the game.
Shield
As we all know, this mode are very popular, so we would like too see it in the game.
History of the NXT Championship
We had opportunity to see this mode before two years. Maybe we will see it and in this game?
WWE x UFC Mode
This is one more our wish. The game would be great, if it will have this mode.
It would be difficult to find a game, which is non – related with the modes. We can say the same and about WWE 2K17 – it is related with lot of modes.
Your opinion are very important too. So, dear friends, tell us what is dream? What would you like to see or do in this game? We want to know your opinion as soon as possible.