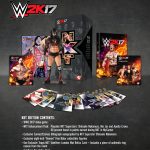 ---
WWE 2K17 Special Edition Will Showcase NXT
WWE's developmental brand, NXT, will be the focus for the collector's edition of WWE 2K17, 2K Sports announced today.
In a conference call, Paul "Triple H" Levesque–the brain behind WWE's NXT brand–and NXT superstar Shinsuke Nakamura revealed that the special edition of WWE 2K17, which is exclusive to PS4 and Xbox One, will be available for preorder on July 14 and cost $100.
Inside the box, the NXT Edition will contain the game, along with the NXT Enhancement Pack, which will consist of a 50 percent boost in points earned during MyCareer and three playable NXT superstars: Shinsuke Nakamura, Nia Jax, and Apollo Crews. Along with that will be a lithograph signed by Nakamura, an eight-inch Finn Balor figurine, a piece of authentic ring canvas from NXT: TakeOver: London, and the Goldberg pre-order pack.
2K Sports informed us that the NXT superstars will be available on launch day for those who purchase the NXT Edition for PlayStation 4 and Xbox One.
The NXT Enhancement Pack–which includes the three stars–will be available for purchase later this year as downloadable content. PS3 and Xbox 360 players can purchase the NXT stars as DLC on launch day.
The NXT brand has been a breakout show for WWE. Before WWE stars appear on shows like Smackdown and Raw, the sports entertainers hone their craft on this developmental show. It's gained a cult following over the years, and while Apollo Crews has already moved to the main roster, Nia Jax and Nakamura's addition to the roster will surely please fans of the brand.
"To me, it's about as in-depth to NXT as you can get," explained Levesque. "For our hardcore fan base, our most passionate fans, that's what they want. They want the ability to replicate the superstar's career paths, as themselves or as that character. I think you're going to see NXT become more and more a part of [the WWE 2K series] over the years."
Levesque was asked about whether or the remaining Four Horsewomen–Bayley, Charlotte, and Becky Lynch–will be appearing in the game. Levesque stated that wouldn't be revealed at this time, but fans should stay tuned for a future announcement. Horsewoman Sasha Banks was revealed as part of the roster during E3, along with John Cena and Ultimate Warrior.
WWE 2K17–which features Brock Lesnar on the cover–launches on October 11 for PlayStation 4 and Xbox One, as well as last-gen systems. The NXT Edition can be preordered on July 14.