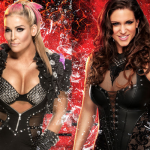 ---
What is it important to know about the WWE 2K17 divas?
We still don't know what will be a official roster of this game… We still don't know and a lot of others details… Anyway, we have some information about the divas of this game. Would you like to hear about them? If yes, then read this article and you will hear really hot news.
If we look back to the 2015 years, we will notice very important fact: were 4 persons, which fans of this game called divas, but they weren't included to the game. Of course, the fans of the game were very sad. Now it's too late to hope changes, but we can know who is these 4 persons: Bayley, Charlotte, Sasha Banks and Becky Lynch.
These persons are really worthy of compliments. They are strong, fast and furious – so it is not difficult to understand why fans called them divas.
Now we can't change the situation, but we can quess, who will be divas of WWE 2K17.